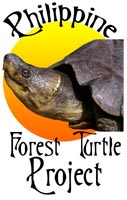 CRISIS
The Philippine forest turtle (Heosemys leytensis) is one of the most endangered turtle species in the world. It is classified as critically endangered by the IUCN (IUCN 2003). The Philippine forest turtle is included in Appendix II of the CITES convention (CITES 2002). According to current data, this taxon faces an extremely high risk of extinction in the immediate future due to lack of basic data on this species, habitat alteration, and illegal rampant trade. It is found only in Palawan, a large, pristine, mostly unexplored island, and a hotspot for biodiversity and conservation needs. The Philippine forest turtle was believed to be extinct, however, a few live specimens were observed in Situ in 2001 and 2003 in northern Palawan, Philippines. Very little is known about the Philippine forest turtle's distribution, habitat type, biology, ecology, or status. Our project is addressing the distribution, status, and conservation of the Philippines forest turtle. If no immediate action is taken, then the Philippine forest turtle could well become extinct in the very near future.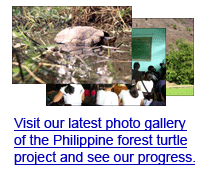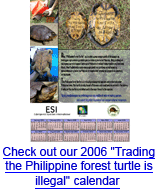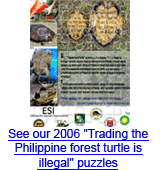 OUR OBJECTIVES:
Current status: Critically Endangered Species;
Our future status objective: Not an endangered species!


To organize trainings whose tasks include turtle survey techniques, conservation, and status of the Philippine forest turtle and its fragile habitat, as well as technical and scientific tasks including use of the geographic information system.

To conduct a comprehensive assessment with the best scientific techniques of the distribution and status of the critically endangered Philippine forest turtle in Palawan, Philippines; in the mean time, a global assessment of all the freshwater turtle species of Palawan will be carried out.

To propose core conservation areas and measures, in conjunction with the Palawan Council of Sustainable Development, Palawan State University, local groups, and The Palaw'an and Bolobog Tribes to conserve viable populations of the Philippine forest turtle and its habitat.

To stop illegal trade of the Philippines forest turtle through identification of local suppliers and key illegal shipment centers, conducting participative educational programs in conjunction with such identification, as well as promoting sustainable alternative incomes.

To provide sustainable alternative incomes for low income families illegally trading the Philippine forest turtle.